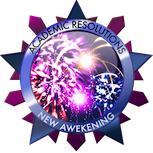 With no end in sight to the global battle for domination, Animators and Architects reflect deeply upon the past as they venture toward the future. Only by creating decisive goals beyond the awakening can either Academy hope to master the energies that pour into our world from the shadow. Who among you will have the resolve to work toward new goals for the new tomorrow, during the 'Academic Resolutions' campaign?
The 'Academic Resolutions' campaign will begin Monday, December 26 at approximately 4:00 AM PST and will run for one full week. Individual rewards will be provided to top contributors at the end of each round and total energy gains can be tracked on the leader board. You can also view the results of each campaign and round on our global battlegroup campaign [[|page]].
Don't forget, the Yule Goat hunt continues, as we will be randomly rewarding 10 mages with official Shadow Cities iPhone skins amongst all those who manage to catch the new powerful Yule Goat spirit before Wednesday, December 28! All of us at Grey Area would like to wish each of you a safe and happy New Year!
If you would like to discuss the weekly campaigns, visit our Campaign [[|forum]]!